ALL SMILES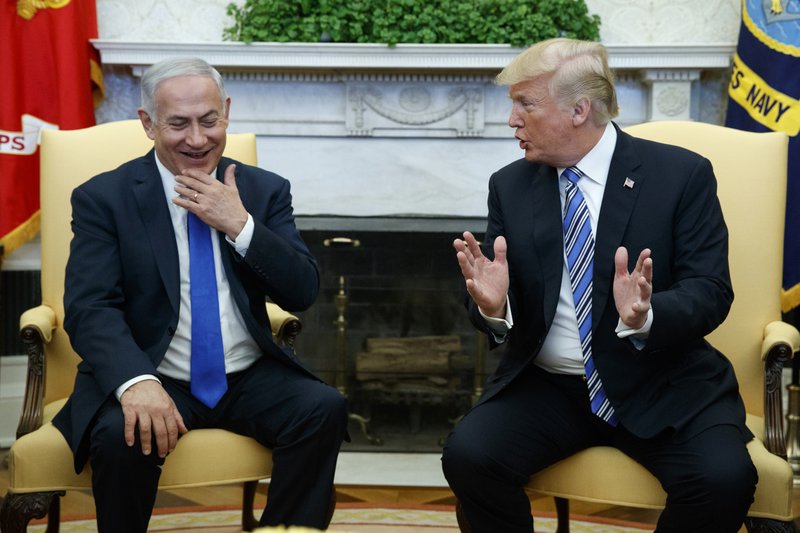 Just released: 2018-03-05
President Donald Trump meets with Israeli Prime Minister Benjamin Netanyahu in the Oval Office of the White House, Monday, March 5, 2018, in Washington. (AP Photo/Evan Vucci)
President Donald Trump and first lady Melania Trump meet with Israeli Prime Minister Benjamin Netanyahu and his wife Sara Netanyahu as they arrive at the White House, Monday, March 5, 2018, in Washington. (AP Photo/Evan Vucci)
President Donald Trump and first lady Melania Trump greet Israeli Prime Minister Benjamin Netanyahu and his wife Sara Netanyahu as they arrive at the White House, Monday, March 5, 2018, in Washington. (AP Photo/Evan Vucci)
WASHINGTON (AP) — The Latest on relations between the United States and Israel (all times local):
12:35 p.m.
President Donald Trump says he may visit Israel in May for the opening of a new U.S. Embassy in Jerusalem.
Trump upset allies and roiled the Arab world last year by announcing that the U.S. was moving its embassy from Tel Aviv to Jerusalem.
The new embassy is set to open in May, and Trump says he'll head to Israel for the dedication ceremony "if I can."
A ribbon-cutting for an interim facility is being planned to coincide with the 70th anniversary of Israel's independence.
Trump commented during an Oval Office meeting Monday with Israeli Prime Minister Benjamin Netanyahu.
Trump also said his embassy decision was "appreciated in a big part of the world."
Read More...
Share this page: