45th PRESIDENT of the United States of America DONALD J TRUMP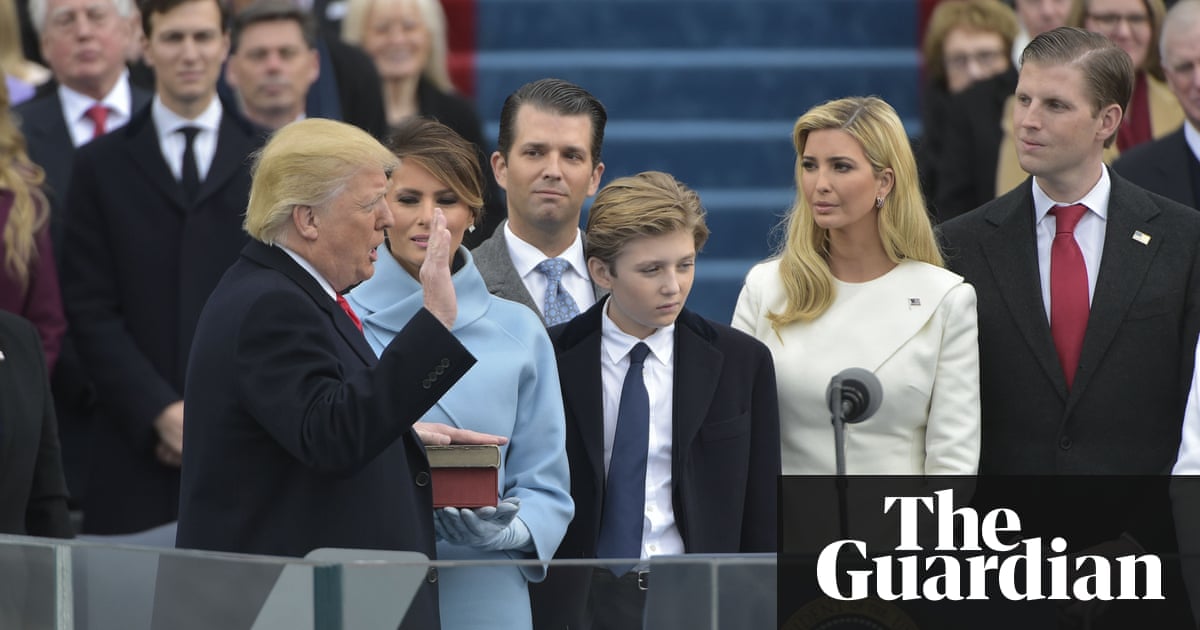 Just released:
Trump describes 'American carnage' in dark inauguration speech in which he vows to transfer power from political elites 'back to you, the people'
President Donald Trump has set out a bleak portrayal of a nation under siege, vowing to end "American carnage" in an inaugural address that fired up his supporters but did little to ease the fears of American liberals or an anxious world.
Moments after being sworn in as the 45th president of the United States, Trump described a country in crisis and pledged an isolationist and protectionist cure, declaring: "From this day forward, it's going to be only America first."
Former presidents Barack Obama and Bill Clinton looked stone-faced during the speech, while George W Bush at times appeared uncomfortable. But there were cheers from Trump's supporters on a rainy National Mall in Washington. The crowd was largely white and notably smaller than for many past inaugurations.
Under the dome of the US Capitol, the billionaire businessman hailed the "historic movement" that swept him to a shock victory over Hillary Clinton in last November's presidential election, claiming it was unique in world history. Citizens expect great education, safe neighbourhoods and good jobs, the 70-year-old continued.
"But for too many of our citizens, a different reality exists: mothers and children trapped in poverty in our inner cities; rusted-out factories scattered like tombstones across the landscape of our nation; an education system flush with cash, but which leaves our young and beautiful students deprived of all knowledge; and the crime and the gangs and the drugs that have stolen too many lives and robbed our country of so much unrealised potential.

"This American carnage stops right here and stops right now."
It was a grim account of the most prosperous nation on earth from a man denounced by critics as an authoritarian populist. Trump's aides had indicated that one of his inspirations for the speech was John F Kennedy's inaugural address in 1961. But there were closer echoes of a 1968 speech by Richard Nixon that described "cities enveloped in smoke and flame" and hearing "millions of Americans cry out in anguish".
As America's political elite looked on, Trump went on to blame past US governments for favouring other nations at the American people's own expense, from the military to infrastructure to factories. "We've defended other nations' borders while refusing to defend our own," he said.
"But that is the past. And now, we are looking only to the future. We assembled here today are issuing a new decree to be heard in every city, in every foreign capital, and in every hall of power. From this day forward, a new vision will govern our land. From this day forward, it's going to be only America first, America first."

For some, the phrase "America first" has disquieting associations with a 1940s movement that aimed to keep America out of the second world war and came to be accused of antisemitism. But on Friday the crowd, many wearing "make America great again" baseball caps and other regalia, applauded and cheered.
Trump continued: "Every decision on trade, on taxes, on immigration, on foreign affairs will be made to benefit American workers and American families. We must protect our borders from the ravages of other countries making our products, stealing our companies and destroying our jobs.
Read More...
Share this page: