Creating thousands of more jobs for immigration officers and border patrol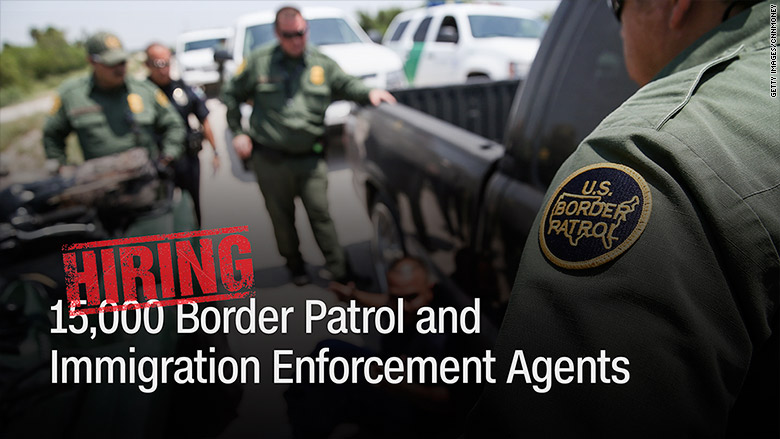 Just released:
Follow us:
But finding, hiring and training thousands of new agents is a long and arduous process and the Department of Homeland Security is already struggling to fill the open positions it currently has.
"It's going to be a difficult task, and it's going to take a number of years -- particularly if you're going to do it right," said Gil Kerlikowske, who led Customs and Border Protection from 2014 through January under President Obama.
Both agencies said they are still working on their hiring plans and did not provide details on the criteria for the new hires.
Here are some of the hurdles they could face:
1. This is hiring on a massive scale
Between ICE and the CBP, President Trump wants to hire 15,000 agents. In his immigration reform plan , Trump said he wants "to triple the number of ICE agents" by adding 10,000 more officers. He would also significantly boost the ranks of the CBP, which had nearly 20,000 agents in fiscal 2016.
Related: Trump's merit-based immigration system: Who would get in?
With unemployment the lowest it's been in eight years , the job market is fairly saturated. "We have almost full employment, so you're competing... against other government agencies, some of which pay more, and you're competing against the private sector," Kerlikowske said.
An entry-level ICE agent starts at nearly $63,000 a year, while an entry-level border patrol agent starts at a little more than $52,000 per year, according to the agency's website .
The last hiring surge was under President George W. Bush. More than 7,000 border patrol agents were added between fiscal years 2006 and 2009.
2. Tests, tests and more tests
There are currently a series of requirements candidates must meet from the start. First, applicants must be younger than 37 when they join the team (unless they're a veteran or had another government law enforcement job).
Prospective ICE agents also must have at least a bachelor's degree. They have to take an entrance exam that tests critical thinking and complete a physical exam, a medical exam, a drug test and a background investigation. Any past arrests, drug use or financial issues may be flagged, though ICE doesn't say it will automatically disqualify a candidate.
Then there's a 16-week basic training program, which includes a five-week Spanish language training course, seven written tests and another physical assessment. Trainees can only score below 70% on one of the written tests -- and, if you do, you only have one chance to pass a makeup exam.
Applicants for CBP jobs must also successfully complete an entrance exam, an interview, a medical exam, a drug test, a physical fitness test, a polygraph (or lie detector) test and a background investigation before receiving an offer.
Related: In Arizona, the mandated use of E-Verify has had mixed results
It takes more than 200 days to hire ICE and CBP personnel, according to a report by government inspectors entitled DHS Is Slow to Hire Law Enforcement Personnel .
And it isn't always smooth sailing. Many applicants balk at all the hoops they have to jump through, according to testimony before Congress by three Homeland Security commissioners in April. More than 40% of CBP applicants failed to either schedule or show up for their entrance exams, which is only step two of the process.
The polygraph tests are also a sticking point. In 2010, CBP found that 60% of applicants who took a polygraph exam failed, according to congressional testimony by assistant commissioner James Tomsheck. Most flunked because they didn't disclose prior drug use or criminal history, he said, which knocks them out of the running.
The agency has not yet responded to a request for more updated data.
Read More...
Share this page: